INSTALLING IPTV ON SMART IPTV app for Samsung Smart TVs / LG / …:
SMART IPTV app is having some issues lately, you can always use other apps: GSE Smart IPTV, KODI, IPTV Smarters, NET IPTV and VIP app. We are not responsible if it didn't work for you on Smart lPTV app.
** On your SMART TV: 
1- Access the Smart Hub downloadable applications of your smart tv.
2- Install the application SMART IPTV (it should be noted also that this application is paid after a certain time in general Seven days from the date of its installation, a single purchase of 5.49 euro is enough to have it forever )
3- Open the application and get the mac address (TV MAC) that will be used during activation.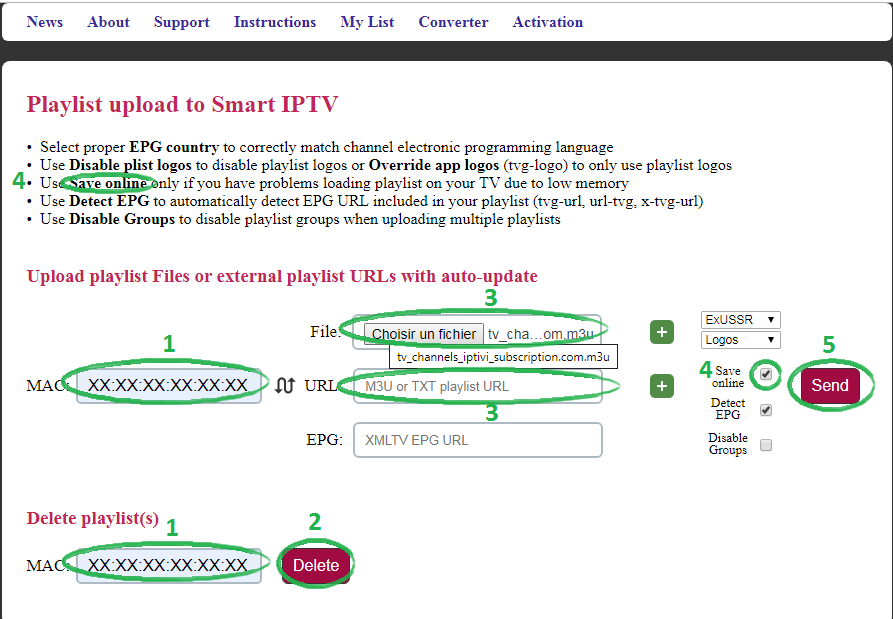 ** AT THE WEBSITE LEVEL: (Check the picture above)
1- Go to the SIPTV website: http://siptv.eu/mylist/
2 – Type your MAC address that you have previously obtained in the first field (MAC) relative to the option (Delete playlist) at the bottom of the page and check the box Captcha if the site asks you.
3 – Type your MAC address that you have previously retrieved in the first field (MAC) related to the 2nd option (Add external playlist links (URLs), with auto-update).
4 – Paste your m3u link that you must have previously bought in the 2nd field (LINK)
(We do not recommend installing the m3u file instead of the m3u link)
5 – Click ADD LINK
7 – A validation message will be displayed.
8 – Please restart the application on your TV to access the channels.
IPTIVI Subscription is an
IPTV Schedule
Subscription Provider: which is a set of tools that allows you to access different multimedia application and interactive services such as live HDTV, radio, camera / DVD, messaging, EPG (Electronic Program Guide), VOD / MOD (Video On Demand / Music On Demand), RSS, … Among these applications & tools you will have Smart IPTV, M3U, MAG, Android IPTV, High quality stuffs thanks to the power of our servers. We have over 3000 channels beside of VOD, SD, HD and full HD (LATEST FILMS AND SERIES A DAY), our priority is the performance of our server IPTV to serve you better. We have the best offers, buy low cost & cheap premium iptv service. We assure you will receive your channels playlist in very high quality of image which will also allow you to ensure the good conditioning during a viewing of your favorite matches and events, in addition to the videos on demand in HD or Full HD. Thanks to the Smart IPTV application on (smart tv) // The activation of your subscription is quite simple & remotely with no need of an intervention on your part or technical knowledge, we also suggest some Android application under the name of IPTV Smarters & GSE Smart IPTV which works with a username and password.